Future World - Apple Authorised Service Provider
Shop No 165/166, Vegas Mall

Dwarka, Sector 14

New Delhi

-

110075

Open until 06:30 PM

Fri

11:00 AM - 06:30 PM

Sat

11:00 AM - 06:30 PM

Sun

11:00 AM - 06:30 PM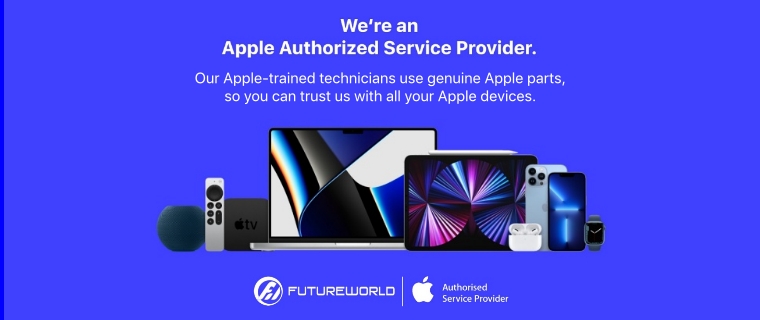 About Futureworld - Apple Authorised Reseller
Futureworld Retail Pvt. Ltd. runs the Apple Premium reseller stores across Asia. With more than 35 stores spanning in 10 countries, FutureWorld opened its first store in New Delhi, India, delivering a total Apple Solution to the customers with a wide range of Apple products, accessories, product trainings and technical support.

In harmony with Apple's policy to provide the customer's the ultimate computer experience with its products and company's philosophy to ensure fairness to all cu stomers based on mutual goodwill, respect and trust; Futureworld stores provide the customers a unique opportunity to touch and feel the products before they make their purchase.

With an impressive customer base spanning to corporate, retail, education and government sectors of the local IT industry, Futureworld continues to expand its operations with a strong focus in the business. At our modern state-of-the art showrooms customers can test drive a Mac or an iPod, consult our well-trained sales team for expert and impartial advice on all aspects of their purchase and choose the product that best meet their individual needs. Presently our showrooms are located in New Delhi, Dehradun, Mohali, Kanpur & Chennai with ambitious plans to reach customers in other parts of the country.

Futureworld stores have an entire range of Apple Products from Macs, iPads, iPods and iPhones. We are also an Authorized Apple Service Provider. Hence, for a complete Apple experience from products to services, Futureworld is a one-stop-shop for Apple lovers.
The address of this store is Shop No 165/166, Vegas Mall, Dwarka, Sector 14, New Delhi, Delhi. read more...
Mon

11:00 AM - 06:30 PM

Tue

11:00 AM - 06:30 PM

Wed

11:00 AM - 06:30 PM

Thu

11:00 AM - 06:30 PM
Fri

11:00 AM - 06:30 PM

Sat

11:00 AM - 06:30 PM

Sun

11:00 AM - 06:30 PM
Other Stores of Futureworld - Apple Authorised Reseller
Cash

NEFT

Online Payment

UPI
Get Direction To Futureworld - Apple Authorised Reseller